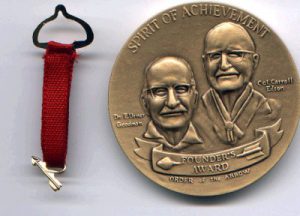 With the death of Dr. E. Urner Goodman on March 13, 1980, the National Order of the Arrow Committee decided in 1981 to create the Founder's Award as a tribute to the Order's founders. Unlike most awards in Scouting, the Founder's Award has no criteria set by the National Boy Scouts of America. Instead, each Lodge is expected to develop its own procedures for the awarding of this prestigious recognition. Therefore, the Founder's Award has a unique meaning to each Lodge. However, one characteristic remains the same, only the most dedicated Arrowmen are considered for the award. It is only reserved for those Arrowmen who demonstrate and memorialize in their everyday life the spirit of achievement as described by our Founders, Dr. E. Urner Goodman and Carroll A. Edson.
Our Lodge first presented the Founder's Award in 1983, and the service rendered to Scouting by past, present, and future Founder's Award recipients should encourage others to emulate their dedication to Atta Kulla Kulla Lodge and the Boy Scouts of America.
Each recipient is presented with an official certificate approved and issued by the National Order of the Arrow Committee, a handsome bronze medallion bearing the likenesses of our Founders, and an Award ribbon that has a gold arrow suspended from a red ribbon.
Founder's Award Video

Following are the Founder's Award recipients of Atta Kulla Kulla Lodge 185, listed by the month and the year they were presented.
Year – Youth Recipient/Adult Recipient
Jan. 2023 Wilson Stokes / Johnny Ray Smith
Feb. 2022 Rose Reese / Glenn Davis
June. 2020 Aiden Koschnitzki / Gary Dean
Jan. 2020 – Josh Kirchner/ David Hollar
Jan. 2019 – Lawrence Coleman/ Sandi Rice
Jan. 2018 – Jakob Helderman/ Michael Stokes
Jan. 2017 – Ben Rosenberger/ Ed Patton
Jan. 2016 – Matthew Watson/ Josh Hipps
Jan. 2015 – David Buchanan/ Jim Culwell
Feb. 2014 – John Flint/ Rick Turner
Feb. 2013 – Tyler White/ David White
Jan. 2012 – Nate Newsome/Dan Newsome
Jan. 2011 – Trent Gillingham/Dr. Bill Dukes
Feb. 2010 – Brian Almond/Dennis Barnes
Feb. 2009 – Marshall Gagne/Greg Bajan
Feb. 2008 – Eric Buchanan/Doc Rabon
Feb. 2007 – Hamilton Barnes/Virginia Matthews
Feb. 2006 – Matthew Cousins/Russell Smart
Feb. 2005 – Ryan Bajan/Jeff Pekarek
Feb. 2004 – Ben Pochardt/Willie Couch
Feb. 2003 – Justin Rakey/Doug Henry
Feb. 2002 – Barratt Park/Dewey Barefield
Feb. 2001 – Michael Kirby/Karl Nolte
Feb. 2000 – Matthew Wade/Ted Dreibrodt
Feb. 1999 – Travis Greer/Gary Greer
Feb. 1998 – Gage Smith/Vicki Smith
Dec. 1996 – Ben Muldrow/John H. Thompson
Feb. 1996 – Trey Garland/Wayne Young
Feb. 1995 – Chris Muldrow/Tommy Smith
Feb. 1994 – Tim Cooper/David Peden
Feb. 1993 – Russell Cann/Mac McLean
Feb. 1992 – Robby Brady/Ches Martin
Feb. 1991 – No Award/No Award
Feb. 1990 – Todd Shealy/Ernie Bailey
Feb. 1989 – John Ireland/Jimmy Stepp
Feb. 1988 – Greg Moore/Tex Qualls
Feb. 1987 – No Award/No Award
Feb. 1986 – Michael Thompson/Jimmy Worthy
Feb. 1985 – Tim Hunt/Jim Ross
Feb. 1984 – Andy Swords/Buster Andrews
Feb. 1983 – James D. Johnson/Dan Merritt*
*Note: Dan Merritt received a plaque instead of the Founder's Award. The Founder's Award is only given to Brotherhood or Vigil Honor members. A plaque is given to Ordeal members.