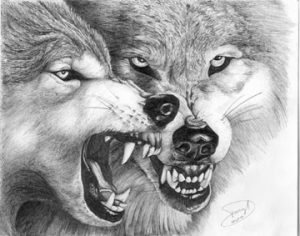 Welcome to the Wolf Clan!
We are very excited to welcome you into our chapter. We represent the [Legacy] Southbounder District of the Blue Ridge Council, serving the troops of southern Greenville County. Remember, we want you to stay involved, continue to serve your troop, and to work to seal your membership. Here at Ani-Wa'ya, we value your interest and we want to make the OA the best scouting experience you have ever had. Being a new Ordeal member, you will experience many new things. Feel free to contact your Chapter Chief if you have any questions. We meet at Messiah Lutheran Church on the second Thursday of each month at 7:00pm.
Ani-Wa'ya (ni-WAI-ya), when translated from Cherokee (ᎠᏂᏩᏯ), means the Wolf Clan. The Wolf Clan was the largest among the seven Cherokee clans, and during times of war the chief would come from this clan.
Positions are Chapter Chief, Vice-Chief, and Spirit Chief.
History
• 2002, 2003, 2004, 2011, 2012, 2013 Chapter of the Year
• 2004 Honor Chapter
• We have had 4 different patches made
• Have made national news with our famous Gobbler Grab
Lodge Chiefs from Ani-Wa'ya:
1984 – John Worthy – Simpsonville
2003 – Ryan Bajan – Simpsonville
2004 – Ryan Bajan – Simpsonville
2006 – Joshua Hipps – Simpsonville
2007 – Joshua Hipps – Simpsonville
2008 – Garrett Riddle – Simpsonville
2009 – Tucker Allendorf – Simpsonville
2010 – Tucker Allendorf – Simpsonville
2015 – Daniel Howard – Mauldin
2017 – Matthew Watson – Simpsonville
2019 – Benji Mcguire – Mauldin
2021 – Joshua Kirchner – Simpsonville
Chief: Lucia Guastaferro
Vice Chief: Cooper Cruce
Spirit Chief: Spencer Lengel
Advisor: Jay Best
Contact Emails:
lmguastaferro@gmail.com
coopercruce545@gmail.com
ksmommy2@gmail.com
jbest4t3scouts@hotmail.com